Site Navigation

•Home Page
•Contact Site\ Manager
•Biographies
•Library
•Downloads
•FAQ
•Wogglebug Review
•Links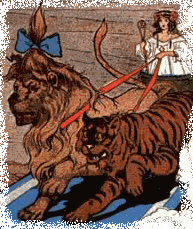 LINKS
The Internatonal Wizard of Oz Club
The official website of the International Wizard of Oz Club, including their message board.

The Wonderful Wizard of Oz Website
Eric Gjovaag's website for all things Oz! (Including his VERY large FAQ!)

Hungry Tiger Press Website
The official website of David Maxine and Eric Shanower's Hungry Tiger Press, publishers of many Oz and Oz-related books and CDs. Their website also contains free Tiger Tales, Tunes, and Treats.

Videos For Family
Aaron Pacentine's website for family videos. Includes a "Land of Oz" section with audio interviews with Oz writers, fans, and experts.

The Putnam Oz Text site
A website with the text of all of Baum's Oz Books and some of his Oz-related books. Also contains links, some of which are not on this page.

Celia Foster's RETURN TO OZ website
A website for fans of the underappreciated 1985 Disney film.

Books of Wonder
The publishers/sellers of Oz and Oz-related books, including almost facsimile editions of Baum's Oz books.

The Library of Congress Tribute
The Library of Congress proves to be very appreciative of Baum and Oz.


Scott Andrew Hutchin's L. Frank Baum Works Archive
A site with links to many, many works by the creator of Oz. Has not been updated in a while.

The Oz Project
Blair Frodeius' index of Oz books and other works by the Royal Historians of Oz.


Other Oz Webpages by Jared Davis.

A New Oz movie franchise?
Jared talks about writing screenplays based on the Oz books, as well as getting them made into films.

New Oz movie petition
Want to see Oz brought to life properly on the big screen? Sign this petition!