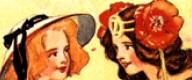 Dorothy & Ozma Productions
Welcome to the website of Dorothy & Ozma Productions, a small company that works to keep the work of L. Frank Baum and the other Royal Historians of Oz alive. We use e-texts, computer games, and other digital resources.
Look around and have fun!
New Oz Discussion Panel! Click here!
Exciting audio series about Disney's RETURN TO OZ!
What's New?
Dorothy & Ozma productions does not support copyright infringements. I do not intentionally use inaccurate information. Companies and persons listed on the links page and other places on the site do not neccessarily recieve any support from us. Oz, Dorothy Gale, Ozma of Oz, and other such persons, things, and places related to them are FICTIONAL and do not exist (so far as I know). All artwork on the site is by Jared Davis, John R. Neill, W.W. Denslow or Walt McDougall. All images are public domain. Original photographs and pictures are by me, and I own them. If you feel I am incorrect on an item or have violated a copyright law, by all means e-mail me so it can be addressed promptly.